Gamepad Controls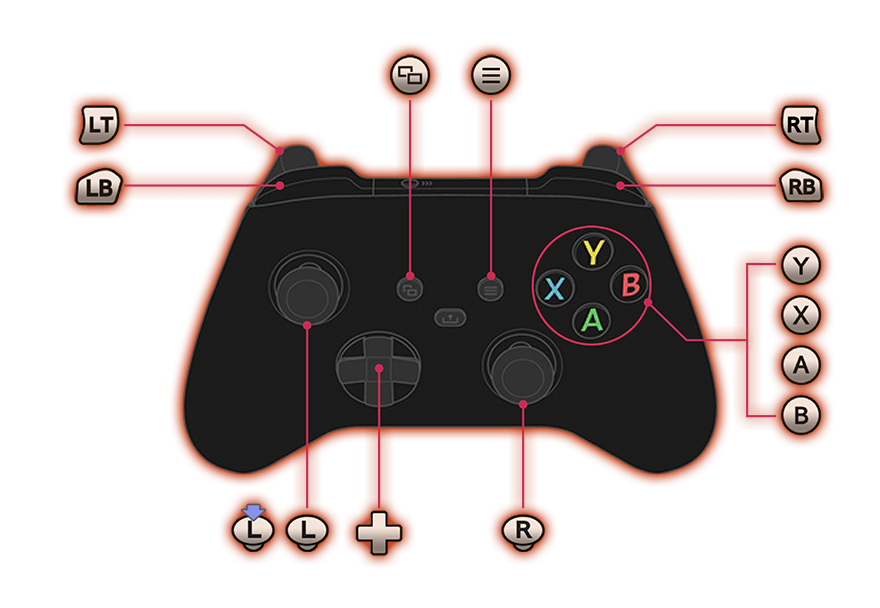 Search Mode
Walk

Look Around

Hold [Classic]
Hold [Action]

Run

+

Left/Right

Strafe

Hold

Focus (Shadow Reading), Pick Up Item, Peer

Aim Camera

[Classic]
[Action]

Move Camera Behind
Action (Investigate, Crawl, etc.)

Dodge Ghost Attack

[Classic]
[Action]

Ready Camera

Show Menu

Pause

Show Detailed Map

+

Open Snap Mode
Photo Mode
Walk

Look Around

+

Look Around Quickly

Hold [Classic]
Hold [Action]

Locking On

Take Photo (Attack)/Shake Off Ghost

Dodge Ghost Attack

[Classic]
[Action]

Use Upgraded Lens

[Classic]
[Action]

Lower Camera Obscura

Switch Upgraded Lens

Switch Film
Rotate Camera on Z Axis
Other Controls
| | |
| --- | --- |
| / | Select |
| | Confirm, Go to Next Page |
| | Return, Close Window |
To choose between action or classic control types, go to Main Menu > OPTIONS > General Settings > Control Type.
Keyboard and mouse Controls
The operation guide will be displayed according to the layout of your keyboard.
If you are using a keyboard that is not supported, the display will be based on the US keyboard layout.
Search Mode
W/S/A/D
Walk
O/L/K/;
Mouse
Look Around
Hold Right Click
Run
Q+A/D
Strafe
Hold Left Click
Focus (Shadow Reading), Pick Up Item, Peer
Q
Aim Camera
Right Click
Move Camera Behind
Ctrl(Left)
Action (Investigate, Crawl, etc.)
Space
Dodge Ghost Attack
V
Ready Camera
Mouse Wheel Click
Show Menu
P
Pause
M
Show Detailed Map
Q+Mouse Wheel Click
Open Snap Mode
Photo Mode
W/S/A/D
Walk
O/L/K/;
Mouse
Look Around
Shift(Left)+K/;
Look Around Quickly
Hold Right Click [Classic]
Hold Q [Action]
Locking On
Left Click
Take Photo (Attack)/Shake Off Ghost
Space
Dodge Ghost Attack
Mouse Wheel Click
Use Upgraded Lens
V
Lower Camera Obscura
↑/↓
Switch Upgraded Lens
←/→
Switch Film
Q/E
Rotate Camera on Z Axis
Other Controls
W/S/A/D
↑/↓/←/→
Select
K
Confirm, Go to Next Page
Ctrl(Left)
Return, Close Window
Key configuration settings can be accessed via OPTIONS on the main menu or the pause menu.