The Smithy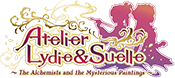 Collect materials and
visit the smithy
to make preparations!
The blacksmith of Merveille will always be glad to take a look at materials Lydie and Suelle can bring him.
In his shop, you will be able to use those materials to create and enhance your weapons and armor!
Create new weapons and customize your old ones!
When you have the required materials, you will be able to create and customize weapons and armor.
All equipment has a status called "Equipment Effect," and it will affect the damage and evasion stats.
The goal of the creation and customization is to increase this Equipment Effect.
Increase the efficiency with some customizations!
Get your own upgraded weapons!
Here you can also attach parts to your weapons to enhance their properties.
There are "Core parts" and "Subparts," and both types can be synthesized.
You can always detach and re-attach the parts, so try using different options to find the one that works best for you!
"Core Parts" add effects and traits related to damage, and "Subparts" add effects and traits related to other special effects.