Tournament entry start

10 May 2022




Tournament entry has ended

Tournament Title

Monster Rancher 1 & 2 DX: Monster Rancher 2

Entry Requirements

Total Stats: 2997 or less
Banned Monster Types: Metalner

MONSTER KOSHIEN is the official tournament for the Monster Rancher series. The tournament started in 1997 at the Tokyo Game Show and has been the main tournament for the series ever since.
Monster ranchers from all around the world will be able to enter their monsters into an online tournament and compete to become the world's top monster rancher!
The tournament will be run via the game's 'Tournament' mode and will be based on auto-battles.

① From the title menu, select the Vs. Mode.
② Select the save data that includes the Frozen Monster you would like to use.
③ From the Match menu, select "Tournament".
④ The tournament details will be displayed on the screen.
⑤ Select the monster you want to enter into the tournament.
⑥ Confirm the monster you selected.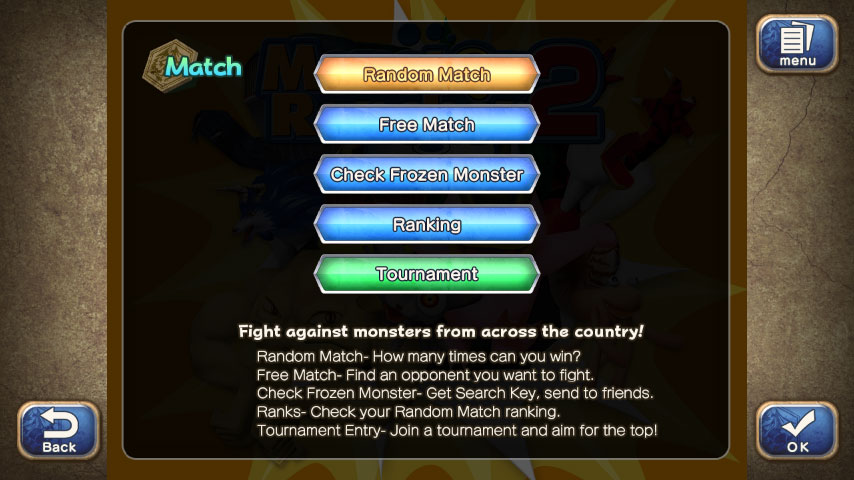 Tournament Entry Period
10 May 2022 ~ 23 May 2022 11:59 (JST)
Tournament Title
Monster Rancher 1 & 2 DX: Monster Rancher 2
Tournament Results Presentation
Prizes Now Revealed
Tournament Finals Presentation
From quarterfinals, the battles will be presented online via videos.
The videos will feature commentary by the series' executive producer Mr. Fujita.
The top four players' monsters will all be entered into the Monster Hall of Fame.
Prizes for the Top 8 Players
1st: Original Plaque + Gold Medal
2nd: Gold Medal
3rd~4th: Silver Medal
5th~8th: Bronze Medal
In-game Prizes
After the tournament ends, players that participated in the tournament will receive the following prizes from the Monster Rancher 2 Tournament Page (no duplicate items, only the highest prizes will be displayed):
Top 4: Gold Medals
Top 16: Silver Medals
Top 64: Bronze Medals
All Other Participants: Participation Certificates
Precautions
・Ensure your monster name and monster rancher name do not include anything that violates the community guidelines.
・Only one account per device can participate in the tournament. If multiple accounts are used to participate in the tournament, they may be disqualified.
・If any violation or cheating is discovered by the tournament organizers, even outside of what is listed above, that monster may be disqualified from the tournament.
・This tournament is subject to change, suspension or cancellation without notice.
・Please read the Terms of Service for this title before applying to enter the tournament.