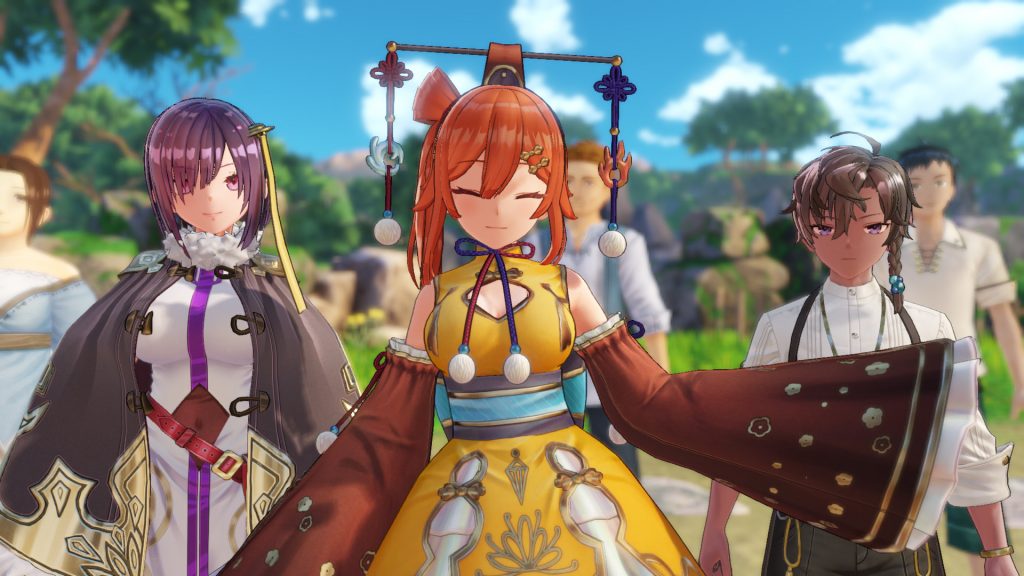 Hertfordshire, 2nd December 2021 – Today, KOEI TECMO Europe and developer GUST Studios introduced new characters and scenarios for their heart-warming JRPG, Atelier Sophie 2: The Alchemist of the Mysterious Dream. The newest entry in the adored Atelier series is scheduled to release across Europe on February 25th, 2022 for the Nintendo Switch™, PlayStation®4 Computer Entertainment System, and Windows PC via Steam®.
In Atelier Sophie 2: The Alchemist of the Mysterious Dream, Sophie uses the town of Roytale – the only town in Erde Wiege – as a base of operations as she searches for her missing friend Plachta. When she arrives in Roytale, Sophie will befriend Kati, the owner of the Crystal Sparkle Pavilion, her kind-hearted employee Gnome, as well as Pirka, owner of Pirka's Emporium, and these eccentric characters quickly offer her their services.
At the Crystal Sparkle Pavilion, Sophie will be able to accept a wide range of requests from the local townspeople, and through completing these requests, she will earn rewards and raise her reputation. As her reputation increases, Kati will offer advancement quests that, once successfully completed, will increase her Adventurer Grade – allowing her to take on more challenging requests with greater rewards. On the other hand, Pirka's Emporium is a unique shop that can replenish and duplicate items – both important services for alchemists to utilise alongside synthesis.
As Sophie progresses through her journey in Atelier Sophie 2, scenarios will unlock for a variety of characters in Erde Wiege. Through these events, players will be able to learn of each character's goals and dreams, as well as raise their friendship level with the character – leading to new skills being unlocked. Each character has their own unique scenarios: Alette dreams of getting rich quickly so she asks Sophie to help her learn alchemy, whereas Ramizel feels like she isn't able to live up to everyone's high expectations. Can Sophie help Ramizel find the success she's looking for?
To celebrate Sophie's latest adventure, KOEI TECMO Europe revealed that those who purchase the game physically on its first-run will receive a special reversible coversheet for their game and a bonus poster with exclusive artwork by NOCO! The celebrations don't stop there though, as KOEI TECMO Europe are also offering two delightful special edition versions of Atelier Sophie 2: The Alchemist of the Mysterious Dream, a Premium Box and a Special Collection Box, exclusively available through the KOEI TECMO Europe Online Store. The Premium Box version of the game includes an artbook, a B3 fabric poster featuring an original art piece, an 'extra tracks' soundtrack CD, an early-access DLC costume for Sophie, and the game all packed into a charming collectable box. The must-have Special Collection Box version of the game contains all of the contents featured in the Premium Box version, as well as an A1 wall scroll featuring an original art piece, a whale necklace motif metal keychain based on Sophie's in-game jewellery, a set of two illustrated clear files, and a special large crystal paperweight. Pre-orders for these versions of the game will open soon, with further details to be shared on the KOEI TECMO Europe social channels. To learn more about these special editions, and future offerings, be sure to sign-up to the KOEI TECMO Europe Online Store mailing list.
For more information on Atelier Sophie 2: The Alchemist of the Mysterious Dream, check out the official site, 'Like' us on www.facebook.com/koeitecmogames, and Follow us on Instagram and Twitter @koeitecmoeurope.