Play the Touken Ranbu Warriors Demo + capture moments in Photo Mode!

17/05/2022 (Tue) ~ 23/05/2022 (Mon)
Play the Touken Ranbu Warriors Demo, capture your favourite moments in Photo Mode and post them on Twitter!
Three winners will be chosen at random to receive a Japanese Touken Ranbu Warriors poster and a digital copy of the game!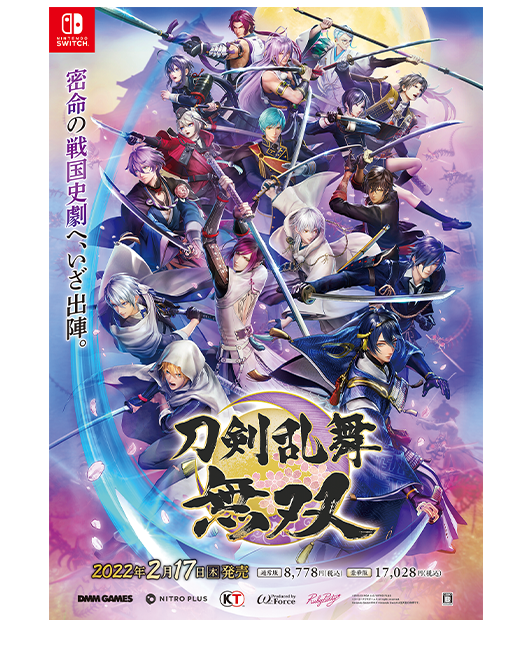 Touken Ranbu Warriors Poster and Touken Ranbu Warriors Digital Version
(3 winners)
17/05/2022 (Tue) ~ 23/05/2022 (Mon)
How to Submit
Take a screenshot in Touken Ranbu Warriors.
Post the screenshot with
"Photo Title" + "#TRWPhotoCampaignEU" + "(comment)".
| | |
| --- | --- |
| Photo Mode | In Photo Mode, the images of the Touken Danshi can be captured and saved as photos. In the demo, Photo Mode can be used in the introductory battlefield. |
How to carry over save data from the demo
When the full game is launched on a system with a Touken Ranbu Warriors Demo save data, the following message will appear: Demo Version save data was detected. Do you want to carry over the data and continue playing?
Select "Yes", then "Continue" from the title menu screen. After loading the save data, begin the game.
*If a save data for the full game already exists, save data from the demo cannot be carried over.
Terms and Conditions
1. Please follow the Twitter Terms of Service when submitting the screenshots.
2. Winners will be contacted via Twitter's direct message from Koei Tecmo Europe Official Twitter (@koeitecmoeurope) (Scheduled for late June 2022).
In addition, we will ask you for personal information necessary for sending prizes.
3. The deletion of submitted entries or tweets before the end of the campaign or unfollowing the official account (@koeitecmoeurope) will be deemed ineligible.
4. Twitter accounts must be set to public. Accounts set to private are not eligible.
5. If the winner's Twitter account falls under any of the following, the winning may be canceled.

·Anything that infringes or is likely to infringe any intellectual property rights, property rights, or other legal rights of KOEI TECMO GAMES CO., LTD. ("KTG") or any other third parties
·Anything that is likely to induce criminal acts
·Anything of which the purpose is for profit
·Anything that causes damage to or is likely to causes damage to the reputation or trust of KTG or any other third parties
·Any other things that KTG deems inappropriate.

6. KTG will collect entrants' personal information during this event and use the same for the purposes of running this event. Entrants' personal information will be maintained and managed in accordance with the Privacy Policy of the Koei Tecmo group.
7. Residents living in the UK and EMEA regions who satisfy all of the following conditions are eligible to participate this event.

(1) Anyone over the age of 13
(2) Anyone who is capable of entering into a contract by himself/herself or with the consent of his/her legal guardian under the laws of the jurisdiction of his/her residence.
(3) Anyone who obtains the consent of a legal guardian upon entry into this event when it is required under the laws of the jurisdiction of his/her residence.

8. All intellectual property rights, such as copyrights and design rights, of submitted photos shall be owned by KTG.
9. Submitted photos will be published on the website designated by KTG regardless of participant's winning or losing.
10. Please refrain from transferring or selling prizes.
11. The contents of this campaign are subject to change without any prior notice.

By making a submission to this campaign you are automatically deemed to have fully understood all terms and conditions of this campaign and agreed to comply with all of them.